February 2023 Grocery Haul & Round-Up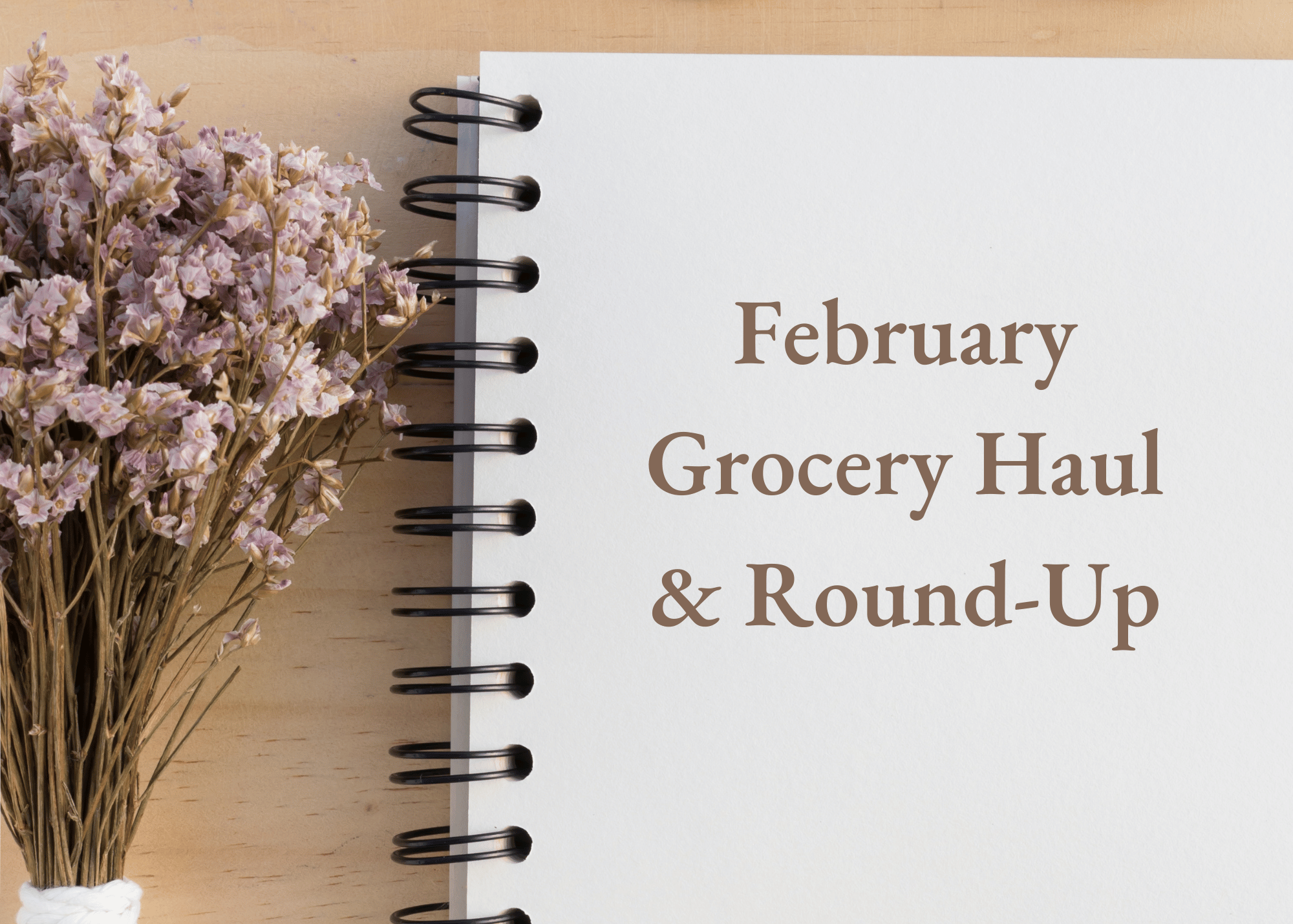 Grocery Haul
Dairy
Milk
Whipped topping
Honey vanilla whole milk greek yogurt
Plain greek yogurt cups
Protein
Eggs
Ranch-flavored tuna packet
Ground pork
Ground turkey
Rotisserie chicken (My parents dropped it off when my kiddos came down with a gnarly stomach bug. I didn't want to do much food prep in a contaminated house.)
Grains
Oatmeal
Rolls
Whole wheat spaghetti
Spinach and herb tortilla wrap
Fruits
Vegetables
Green bell peppers
Broccoli
Cucumbers
Tomatoes
Lettuce
Mushrooms
Spinach
Snacks
Popcorn
Mini bear grahams
Pretzel sticks
Tortilla chips
Drinks
Greens powder - hubby loves it at work. It reminds him of the Spanish mate drink from his ministering mission.
Freezer
Taters
Broccoli
Cauliflower
Pantry
Avacado oil spray
Olive oil
Olive oil mayo
Almond butter
Powdered peanut butter
Kinder's Woodfired Garlic Seasoning with Hardwood Smoked Flavors
Corn starch
Garlic salt
Cream of mushroom soup
Special Occasions - Valentine's and Birthday Prep
Chocolate hearts
Lollipops
Bubble gum
Frosting - birthday prep
Natural food coloring - no artifical dyes!
Medicine Cabinet
Children's allergy meds - for first aid kit
Kid's fluoride rinse
D-Mannose - healthy tract
Evening primrose oil - female health
Cranberry probiotic - healthy tract
Personal Care
Shampoo
Conditioner
Sanitizing laundry liquid
Home
Curtain rods - for the boy's closets
Curtains - for the boy's closets
Favorite Meals
Banana chocolate smoothies
Kodiak Cake waffles
Steamed broccoli, couscous, pesto pasta sauce, smoked chicken
Bone broth from the rotisserie chicken
Homemade country bread loaf
Southwest chip dip
Caprese salad - cherry tomatoes, mozerella cheese, balsamic vinegar, olive oil, basil pesto paste
Round-Up Highlights
Ladies' nights with friends from church.
Church youth activities included a game night, singing at the local assisted living, and making friendship bracelets.
Birthday dinner date night with Karson and skiing with him the next day. Got some ski racks installed on my SUV as a present!
Extended family dinners and outings.
We attended my niece's baby blessing out of town. Off-road riding with the children and hot tubing.
Volunteered at my son's 100th Day of School Party and enjoyed partying with his class. Also did reading books and flashcards with HH and Ro's classes.
HH had swim lessons this past month as we prepared for a summer full of swimming.
Enjoyed going to E's parent and child preschool group.
Birthday prep for the three kiddos and baptism prep for my daughter.
My children caught a terrible stomach infection and were so very sick. I was grateful for my support system and bedding and running water comforts.
Continuing Lauren Fitter's Postpartum Ab Program and started Caroline Girvan's IRON series. Tried to walk as much as possible throughout the month.
Started a whole wheat sourdough starter and named it "Arthur." Sprouted some whole wheat berries.
Prepping for CHICKENS! We got two free chicken coops off of our local classified ads and placed them in a barn stall.
Thanks for reading busy bees! God is in the details and sees the whole picture.
xoxo, Breanna