Honey Whole Wheat Banana Applesauce Muffins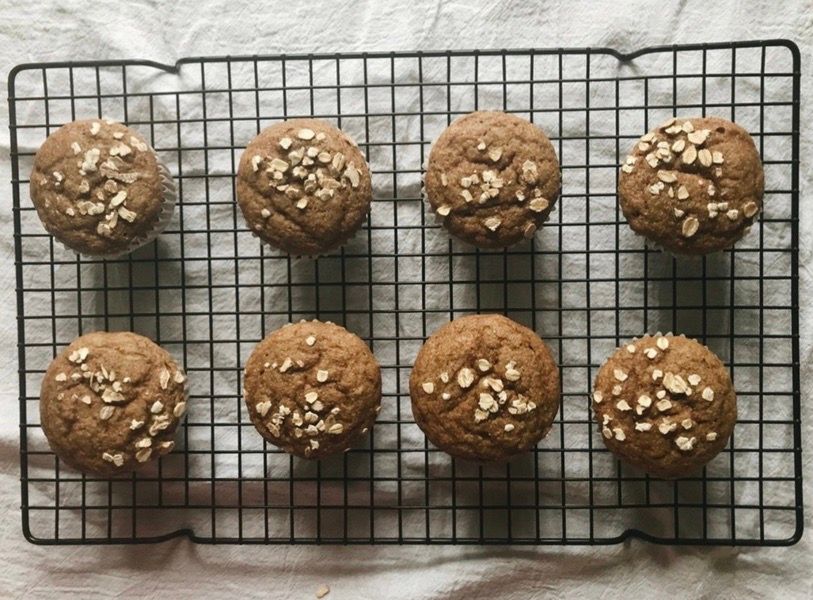 Honey Whole Wheat Banana Applesauce Muffins are an easy breakfast or snack. You'll feel good about putting this fluffy and moist morsel in your mouth because they are made with clean wholesome ingredients. It's a simply delicious way to get some complex carbs and fiber! Enjoy your food and eat to nourish and fuel your body.
Ingredient Breakdown
Whole Wheat Flour
Whole wheat flour is a wonderful source of fiber and is made from grain that has not been heavily processed or refined.
Sea Salt
High-quality sea salt has trace minerals that are beneficial to our bodies. Although you don't want it in excess, a normal amount of sodium helps regulate the electrolyte balance in our bodies.
Ground Flaxseed
Ground flaxseed is rich in fiber and omega-3 fatty acids. It also has phytochemicals called lignans, which reduce the risk of cardiovascular disease. Flaxseed that is ground is easier to digest and promotes healthy digestion. Like other sources of dietary fiber, ground flaxseed should be taken with plenty of fluids.
Unsweetened Applesauce
Unsweetened applesauce is another great source of fiber, vitamins, and minerals. Unsweetened applesauce possesses no added sugar, artificial sweeteners, flavors, or colors.
Raw Honey
Raw honey is a pure unfiltered natural sweetener made by honeybees from the nectar of flowers. Raw honey has incredible nutritional value and antibacterial properties. Raw honey can help with healthy weight management, natural allergy relief,  and the reduction of free radicals in the body.
Eggs
Eggs are an excellent source of protein, iron, essential vitamins, minerals, and carotenoids. If you have access to fresh farm eggs, they are an excellent choice because they contain more vitamins and omega-3 fatty acids and less cholesterol and fat.
Banana
Bananas are a great source of dietary fiber, vitamin c, potassium, manganese and vitamin B6.
Ingredients
Whole Wheat Flour – 3 1/2 cups
Baking Soda – 2 teaspoons
Sea Salt – 1 teaspoon
Ground Flaxseed – 2 tablespoons
Unsweetened Applesauce – 2/3 cup
Raw Honey – 1 cup
Eggs – 4 count
Ripe Mashed Bananas – 2 cups (about 3 medium bananas)
Hot Water – 1/2 cup
Oats for garnish
Honey for garnish
Oil spray or paper baking cups
Instructions
Preheat the oven to 325 ℉ and gather all ingredients on the counter.
Stir together dry ingredients in a bowl. Dry ingredients include whole-wheat flour, baking soda, and sea salt.
In a separate bowl, beat applesauce and honey together with a hand mixer.
Add eggs to wet ingredients and beat well.
Add mashed bananas to wet ingredients and then beat to combine.
Add dry ingredients to wet ingredients.  Alternate adding dry ingredients with hot water to the wet mixture.  Mix well after each addition.
Spoon batter into greased muffin tray three-fourths full. An alternate option of greasing the pan is to use paper baking cups in the tray.
If desired, drizzle the muffin batter with honey and oats
Bake at 325 ℉ for 17 minutes, or until muffins are golden brown and test done and clean with a toothpick.
Remove from oven and cool on a rack.
Enjoy!