Strawberry Rhubarb Lemonade
Refreshing strawberry rhubarb lemonade is a perfect pink picnic drink, sweet strawberries, tangy rhubarb, and sour lemons make for the perfect combination of flavors!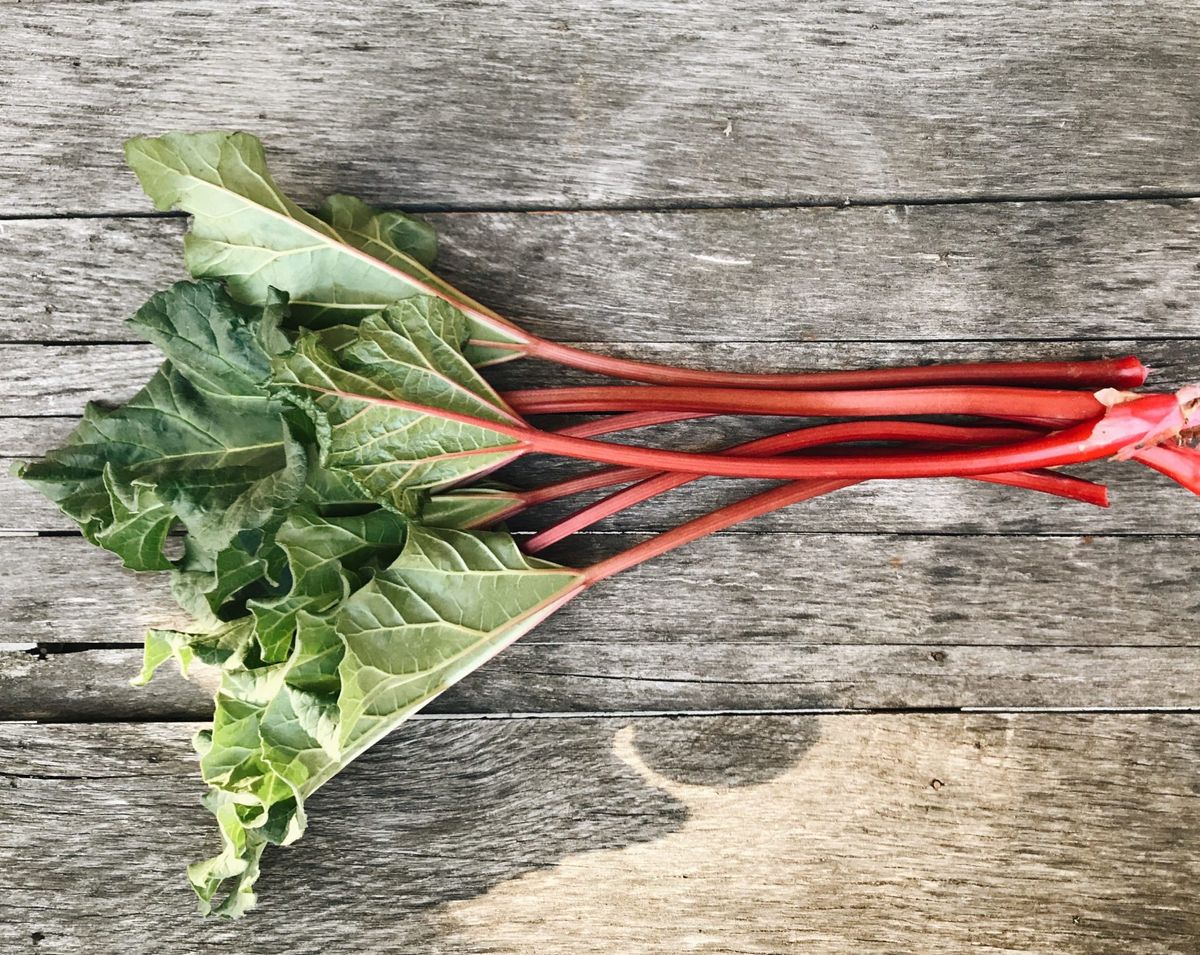 As warm weather and summer approaches, thoughts of backyard parties and picnics come to mind! Refreshing strawberry rhubarb lemonade is a perfect pink picnic drink, sweet strawberries, tangy rhubarb, and sour lemons make for the perfect combination of flavors!
Ranch Life and Lemonade
The first time I was formally introduced to rhubarb was on my senior trip to Bedford, Wyoming. After high school graduation in 2010, a group of my friends, two guys, and four girls traveled to my friend's family's farm and ranch.  They had cattle and a beautiful spread of fresh produce.
During the trip, we helped move sprinkler pipes in the pasture and pick produce. On our trip, we hiked to Periodic Spring (the largest rhythmic spring in the world), floated the Salt River, and enjoyed the acreage surrounding the ranch and farm. I've always had an attraction to country life and experiences like this solidified my love of it. Now I'm married to a handsome cowboy, live on horse property, and enjoy raising produce and livestock.
After a long day of playing on the ranch, we went and picked a bunch of produce, which included rhubarb that we brought back for dinner. That night, with our help, my friend's grandma prepared a whole spread of delicious vibrant homemade food.  We enjoyed greens from their garden, freshly picked vegetables, and warm homemade bread.  Nothing beats self-grown and homemade food and cooking!
She also made strawberry rhubarb lemonade! It was so refreshing and new! I love lemonade so obviously, I was hooked. Rhubarb is the perfect addition to lemonade with its tangy and tart taste!
Country Living
Speed up to now, my husband and I bought a home in 2015 that is on the property that allows livestock. A portion of the property is pasture and our home, garden, and yard are on the rest. In the northwest corner of our yard, we have a patch of soil for gardening.  My neighbors, who I consider another set of grandparents, had a line of rhubarb in their garden and let me have a start. So I transferred the plant starts and hoped for the best.
Last gardening season, I didn't do much with the rhubarb. However, this year as I am working on developing my skills as a nutritionist and gardener; I am putting in the time and effort to learn how to grow, care and cook with fresh produce. As I was brainstorming what I could make with my rhubarb this year, I remembered the strawberry rhubarb lemonade I enjoyed on that picturesque Wyoming ranch. I loved it so much, I wanted to share it with you all!
Ingredients
5 1/2 cups water
1/2 pound rhubarb, trimmed and cut into 1-inch pieces (about 2 cups)
3/4 cup sugar OR 3/4 teaspoon stevia powder or extract
2 three-inch strips of lemon zest removed with a vegetable peeler plus additional for garnish
1/2 teaspoon vanilla
1 cup sliced strawberries plus additional for garnish
1 cup freshly squeezed lemon juice
Instructions
In a saucepan, stir together the water, rhubarb, sugar, strips of zest, and vanilla. Bring the mixture to a boil, stirring until the sugar is dissolved, and simmer it, covered, for 8 minutes.
Stir in the strawberries and boil the mixture, covered for 2 minutes.
Let the mixture cool and strain it through a coarse sieve set over a pitcher, pressing hard on the solids. Stir in the lemon juice.
Divide the drink among stemmed glasses filled with ice cubes, and garnish each glass with additional zest and strawberries.
Enjoy!